Articles avec le tag 'famous canals'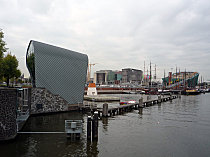 Just two hours drive from Brussels and within three hours of Lille, Amsterdam is the capital of Europe to visit.
Amsterdam is of course well known for its diverse and varied museums like the Rijksmuseum (National Museum Dutch), the Van Gogh Museum or the Anne Frank House. Most original museums are also present, we can mention the sex museum, the Museum of the tortoise and the one devoted to cannabis.
Neighborhoods not to be missed are those of the old center (old town), the world famous red light district. The walk along the canals is a must for all lovers, just as the boat trip in the heart of the famous canals. You can admire all the architectural features including through explanations of the guides.
The flower market at Muntplein is world famous, be sure to go take a walk.
Lire la suite de cette entrée »