Articles avec le tag 'Paris France'
The Champs-Elysees in Paris in 2011 is again the most expensive shopping street in Europe, ahead of New Bond Street in London, and retained its fifth place worldwide, according to the annual survey of real estate consultant company Cushman & Wakefield on Thursday.
The rental value of the Champs-Elysees was up 5.3% over the last twelve months 7364 euros per square meter per year, ahead of New Bond Street, who was dethroned in 2010, but the increase was smaller this years, from 4.3% to 6901 euros per m2/year, which descends from the fourth to sixth place.
« In contrast to the decrease of 9.5% recorded last year, » the increase in rental value of the Champs-Élysées « sign a comeback of the most beautiful avenue in the world, recently hosted several openings and significant transactions « the study says, referring to the scheduled arrival of the British chain Marks and Spencer and the American clothing brand Banana Republic.
Lire la suite de cette entrée »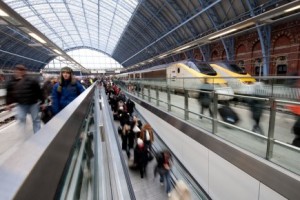 The Rail company Eurostar reported on Wednesday a further increase in its turnover and its customers in the first half, in the wake of last year where she had already recorded a significant growth of its business.
The company, whose high-speed trains linking Paris ( France ) and Brussels ( Belgium ) to London ( England ) via the Channel Tunnel, said in a statement that its sales had increased by 4% in the first six months of the year to 421 million pounds (about 481 million euros) for a number of passengers increased by 3% to 4.7 million.
Eurostar said that this performance is « particularly strong » when taking into account the fact that its business was boosted in the spring of 2010 by the disruption of air traffic, related to Icelandic volcanic ash.
The company had circulated 70 extra trains to compensate for the drop in air traffic, which had represented more than 100,000 customers. Excluding this exceptional event, sales of the first half of 2011 reflected an increase of 12%, she assures. Lire la suite de cette entrée »