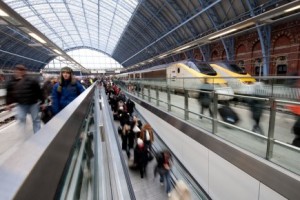 The Rail company Eurostar reported on Wednesday a further increase in its turnover and its customers in the first half, in the wake of last year where she had already recorded a significant growth of its business.
The company, whose high-speed trains linking Paris ( France ) and Brussels ( Belgium ) to London ( England ) via the Channel Tunnel, said in a statement that its sales had increased by 4% in the first six months of the year to 421 million pounds (about 481 million euros) for a number of passengers increased by 3% to 4.7 million.
Eurostar said that this performance is "particularly strong" when taking into account the fact that its business was boosted in the spring of 2010 by the disruption of air traffic, related to Icelandic volcanic ash.
The company had circulated 70 extra trains to compensate for the drop in air traffic, which had represented more than 100,000 customers. Excluding this exceptional event, sales of the first half of 2011 reflected an increase of 12%, she assures.
As she had already seen the first quarter, Eurostar said it had received a good momentum in both the leisure category for vogages business, where sales rose by 8% and 9 on the last six months.
"Despite an economy still fragile, leisure travel pass before other spending. Our clients include more attention to their own time and choose to focus on the long weekend abroad, "said in a statement the Director General of Eurostar, Nicolas Petrovic.
Last year, the number of Eurostar passengers had increased by 3% to over 9.5 million, and early March, Jacques Gounon, chief executive of the operator of the Channel Tunnel, Eurotunnel, predicted that the historical threshold of ten million passengers would be taken this year by the railway.