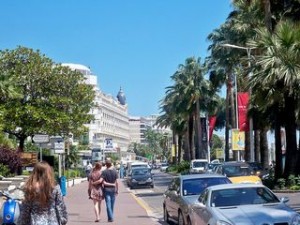 Cannes is an important city in the south of France, situated in the Alpes-Maritimes.
Authentic southern village rich and varied heritage, magnificent contemporary city with a special mention for luxury and glamor, Cannes will surprise you around every street and in its immediate surroundings …
With a rate of sunshine, excellent restaurants, historic heart, sandy beaches (although the beaches of the region are rather pebbles) and its beautiful bay, Cannes has strengths and tourist resorts in the world world envy.

Initially, small Mediterranean village of fishermen and monks, its history is inseparable from those of the islands of Sainte-Marguerite and Saint-Honorat which are few strokes shores.
How to go to Cannes in the south of France :
The nearest airport is Nice located less than thirty miles. The Nice-Côte d'Azur has direct flights to the French and European airports, but also in North Africa and the Middle East. It is served by traditional airlines, charter and low cost. By the motorway, follow the A8 motorway and take exit 42 Cannes / Grasse. You just have to go down the Boulevard Carnot and thus reach the heart of Cannes.
Mainline trains, TGV and TER stop in Cannes Train Station. The city is about 5h30 from Paris by TGV.
What to do in Cannes :
We can not talk about without mentioning the famous festival de cannes, Palme d'Or and a true landmark of the city. This festival was created in 1946, is one of the most famous film events in the world. All the biggest names in the profession turns in the second half of May. The event attracts so many people that the city's population triple during this period. The Festival takes place mainly in the Palais des Festivals, at the end of the Croisette.
MIDEM for international market in music and music publishing is the largest global gathering of companies working in the music industry, it takes place every year since 1967 in Cannes in the south of France. It is organized by Reed MIDEM company (formerly MIDEM Organisation). Here you can find music industry world midem 2013 highlights.
Where to sleep in Cannes :
During Cannes Film Festival, for a hotel room, it is better to go ahead. 30 to 40% of customers book a year over year in Cannes. And you'd better have saved some money during the year, the Festival is of course the period when prices are higher, because demand far exceeds supply.
Here you can find 7 advantages of renting instead of booking a hotel.
But after the Festival de Cannes, you can easily find a hotel, for real estate world mipim convention highlights.