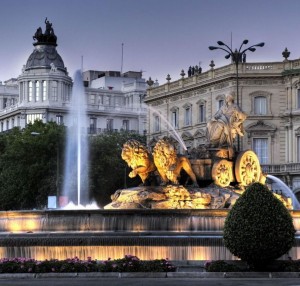 Spain is a country in Mediterranean Europe sharing the Iberian Peninsula with Portugal to the west and the Principality of Andorra to the north is bordered by the Pyrenees mountain range that separates France. Spain is the country that contains the second highest number of heritage sites of UNESCO after Italy and the largest number of cities classified as World Heritage.
The major cities of Spain are Madrid, the Capital,   Málaga, Barcelona, Seville, valence, Cordoba, Bilbao, Zaragoza, Salamanca …
The Other Must to see destinations are Girona, Saint Jacques de Compostela and Elche.
There are three main climatic zones in Spain:
The Mediterranean climate characterized by a hot and dry summer. According to the Köppen classification, it is dominant in the peninsula, with two main nuances: the Mediterranean climate type (Csa climate), present in the southern part of the country, in the northwest of the country with the scorching summers less because of the proximity of the ocean or altitude (Csb climate).
The semiarid climate (Bsk): it is located in the southeast quarter of the country (particularly in the region of Murcia), but also around Valladolid. Contrary to the Mediterranean climate, the dry season extends beyond the summer.
The oceanic climate: winter temperatures and weighted by the ocean and droughts less pronounced and less regular than in the rest of the peninsula (rainfall events in autumn and winter). The oceanic climate deviation is virtually absent in Spain. In some areas of altitude in Galicia, and Basque and Asturian coasts, was essentially the shade aquitaine, which differs from oceanic climate type by the hot summer bigger and more stormy in the north-western Europe – average July temperature of 21 ° to 16 ° against Santander to Brest or Liverpool.
Apart from some wet areas of the mountains, low rainfall and lack of water is a problem in much of Spain. Forest fires are a problem for all forests of the peninsula.
The most common language is Castilian Spanish (español castellano).
But keep in mind that some autonomous regions have their own official language: we speak Basque in the Basque Country, Catalan in Catalonia, Valencian in the Valencian Community and the Balearic Islands, Galicia and Galician.
It should be noted that there are also variations in pronunciation significant regional, Andalusians have such a pronunciation different from the rest of Spain.