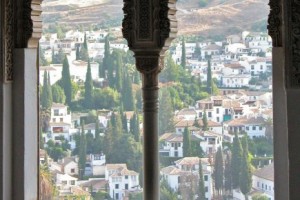 Foreign tourist arrivals in Spain increased again in 2011, 8.1% or 56.9 million visitors, good news for this country to the brink of recession, according to preliminary figures released by the Ministry of Industry.
The amount spent by these tourists has also risen from 8.1% to 52.9 billion euros, according to the same data.
If these figures are confirmed, 2011 will have been the fourth best year ever for tourism in Spain, the ministry said.
Undermined by the economic crisis, the tourism sector, which accounts for 10.2% of GDP of the country had experienced three years of decline before recovering in 2010, with an increase in foreign tourist arrivals by 1%.
In 2011, the British and the Germans were again the most likely to visit Spain, with an increase of tourists from these countries by 9.3% and 3% respectively.
But the other nationalities were also well represented, both the Italians (8.5%), Scandinavians (8.4%) or French (4.6%).
"In general, the main regions of destination for foreign tourists were more tourists in 2010," the ministry said in a statement.
Areas traditionally the most visited in Spain were Catalonia (northeast) and the Mediterranean Balearic Islands, but this year the Canary Islands have enjoyed the vacation plans thwarted by popular uprisings in Egypt and Tunisia.
Spain, the fourth tourist destination in the world, had indicated in October having experienced "one of his best summers of history in tourism."
Good news as the country is threatened with recession according to the Bank of Spain, against a consumption at half-mast and record unemployment (21.52%), only exports and tourism enable the Spanish economy to stay afloat.
The trend is coupled with a recovery of world tourism, which should, according to the World Tourism Organization (WTO), increase by 4 to 5% in 2011. The WTO will publish its annual report Monday.