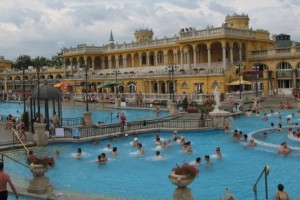 Threatened with decay, several baths of Budapest began a costly program to renovate, even though tourists and locals seemed immune to damage from these major attractions of the "spa capital of the world."
Since the 1950s, no builder has been hard at work Kiraly baths, one of the largest and oldest in the city, built in 1565. The mortar is crumbling, the pipes are rusting in the humid heat. Small windows that dot the Ottoman dome let in the rays of light involved in the magic of the place, are eaten by mold.
"It's so beautiful and authentic architecture," relishes a Swiss student immersed in the pool to 40 degrees.
"These baths are good for the renovation," retorted the architect Laszlo Miko, whose office is responsible for the work. For Kiraly, the workers will not invest there before two years.

Other famous establishments, from the Ottoman period as the baths Racz, Rudas Lukacs and or Art Nouveau marvels as the Gellert and Szechenyi, have already or are in the process of a facelift.
Despite the cessation of public funding sources for five years ago, the city of Budapest in 2010 voted an aid of 710 million forints (2.5 million) for the management and restoration of the baths.
This amount is far from sufficient: the city has a hundred and fifty sources spas which sparkle every day 70 million gallons of thermal water.
Rudas baths, also erected by the Turks in 1571-1572, when the facade is still faded, the interior is trendy now with the work of some 1.8 million euros funded 80% by the European Union according Gyorgy Kozak, director of municipal development of the company operating the spa (BGYH).
BGYH intends to appeal to the generosity of Brussels to renovate some of the 13 baths and pools it manages.
The rehabilitation of these spas, including the old-fashioned charm was not displeasing to tourists attracted by the scent of the old retro Communist capital, is intended to make them more profitable.
"The baths only lose money throughout the world and are often subsidized," says Kozak. By adding a second phase of accommodation in these complexes, "customers could stay several weeks for medical treatment, instead of just visiting for a weekend," adds Szilvia Czinege, Chief Marketing BGYH.
The following example is the Hotel Gellert, an architectural jewel of the early twentieth century, which is one of four baths of the city to generate profits.