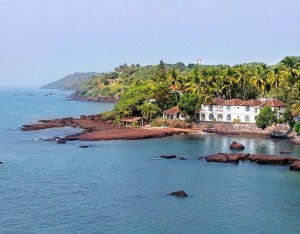 State of India, Goa is especially famous for its beautiful sunny beaches that attract international tourists as well as locals. The cultural and historical heritage of the region is not negligible.
Goa does not know the cold and the highest temperatures are recorded in May where they often reach between 30 and 39 degrees. Not surprisingly, this region is a tropical place to go because of the diversity of its beaches. Located some 18 kilometers from the capital Panaji, the Anjuna beach and is one of the major destinations for tourists from around the world, particularly attracted by the vibrant nightlife of the place. It is also in this area, and the beach in Vagator, what happens Festival Full Moon Party, a gathering of psychedelic trance music, with origins dating back to the 80s in the same region.

For lovers of quieter places, Dona Paula beach, located approximately 8 kilometers from Panaji, provides an anchor spot in which it is also possible to practice water sports. Among other famous beaches, the Miramar is also found in an area of concentration of tourist infrastructure.
But if sunbathing eventually get tired, you can just as easily explore the religious heritage of Goa state has numerous churches of the sixteenth and seventeenth centuries, including the Basilica of Bom Jesus and the Cathedral of St. Catherine, both located in Old Goa, old Goa literally. During your stay in Goa, you can also visit its Hindu temples or mosques. Finally, for lovers of natural scenery, Goa is rich in rice fields, waterfalls but also in forests.
Transport and travel in Goa
Dabolim Airport is located some 29 kilometers from the capital of the region of Goa, Panaji. The airport, which is served by Air India and Indian Airlines, serves many domestic destinations in India.
Visits to Goa
No holiday in Goa without a regular visit beaches. Anjuna Beach, which is the tourist center, is particularly interesting because of the presence of the castle that dates back Albuquerique in 1920 and that of Mascarenhas. You can also go on a cruise ship and in the farthest corners of the Zuari River where you can enjoy observing the exotic bird life but also crocodiles.
Where to Sleep in Goa
There are a lot of luxury level villas for rent in Goa (inc services maid, security, swimming pool)and Of course, also have low-price villas. Villas is giving more privacy and comfort in comparison with hotel for your Holidays in Goa.
Attractions in Goa
If the Anjuna beach is the perfect place for lovers of all kinds of festivals, Goa is generally a haven for clubbers looking for nightlife. This Indian state also contains numbers of casinos and, in particular, the Caravela, which is the only casino located offshore on a boat in India. A cruise along the Mandovi Panaji leaving is also a possibility.