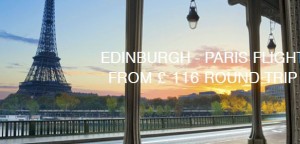 Visit Europe has become really easy and accessible in prices in recent years with numerous possibilities to travel from one country to another without concern visa and with a multitude of different transport.
The first options that we think are in general the car, train or bus because they are options that cost little money even if the trips are often much longer. However it is very common to forget that airlines also offer very competitive prices to compete with other modes of transport and air travel will save you lots of time when you will have to join two such relatively distant countries in Europe or when you will need to juggle between several means of transport, not to mention the stress due to the hazards of the road.
For example, if you want to get to Paris from Edinburgh in Scotland, the aircraft will probably be a much better means of transport than taking the bus and then having to take the ferry to cross the English Channel. With the plane, you will not take a single transmission with a direct flight and you do not have to worry about arriving on time for the boat.
To find the best prices for air tickets, my best trick is to look directly on airline sites, they all offer very competitive rates and without intermediary you will pay much less. For the trip to Europe, Air France offers an extensive network of flights connecting all capitals and major cities.
Visit the brand new website airfrance.co.uk, it offers very attractive fares from Edinburgh to reach Paris in France but also reach other European capitals or even for long-haul flights to a whole another continent. For example today, you can find cheap flights Edinburgh to Paris on this website for only £ 116 but you also can buy ticket to Paris France from a lot of city on England and all around Europe.
I advise you simply to test the site's search engine to compare with other travel possibilities but I think you will find your happiness rather quickly.