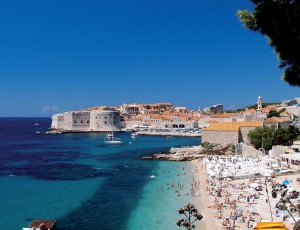 Cyprus is a country in Mediterranean Europe and the European Union since May 2004. Climate: temperate, Mediterranean with hot summers, dry and cool winters.
Cyprus has been divided since 1974 into two areas separated by the buffer of the UN. Only the Greek area in the south (known as the "Republic of Cyprus") is recognized by the international community. A passport is sufficient for access, but access will be denied to people with a visa of Northern Cyprus. The Turkish area in the north (called "Turkish Republic of Northern Cyprus") is recognized only by Turkey and a few other countries. A passport is also sufficient for access.
Communication between the two areas is problematic and limited to a few points sometimes hard to find, the best known is located in Nicosia, at the foot of the former Ledra .. It is forbidden to pass in the south if we first entered the island from the north. In contrast, those who approached the island from the south are allowed to apply for a pass a few days for the north.
City of Cyprus are Nicosia ( the capital ), Larnaca, Limassol, Paphos, Kyrenia and Famagusta.
How to go in Cyprus ?
By plane : Larnaca Airport is located 6 km from the city center.
Ercan Airport North Cyprus dessert, but is inaccessible to international flights, with the exception of those from Turkey, and sometimes Britain. Can be reached by taxi exclusively from North Nicosia, Kyrenia and Famagusta.
By boat : Opportunity to reach Limassol from Italy. From the ports of Larnaca and Limassol, ferries provide connections to Piraeus, Rhodes and Heraklion. They also connect some ports in the Middle East (Haifa, Port Said …).
Northern Cyprus is served from Turkey. A daily hydrofoil connects Kyrenia / Girne in Tasucu near Silifke (2 to 4 hours, about 60 euros). A daily overnight ferry connects Famagusta Mersin (about 8 hours, same cost).
By train : There are no trains in Cyprus.
What to see in Cyprus ?
Archaeological heritage of the island is important but unfortunately not always well developed.
Sites not to be missed are:
The tombs of the kings of Paphos.
Nea Paphos.
Kourion.
The Kykkos Monastery.
The old town of Famagusta.
Salamis.
Castles of Besparmak.
Abbey Bellapaix.
The tomb of (Saint) Lazarus of Bethany in Larnaca.