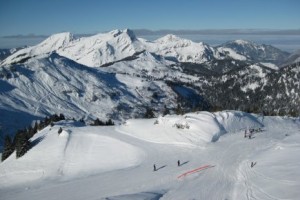 Switzerland is the top destination, according to a ranking compiled by the Adventure Travel Trade Association, but if you want off the beaten track, Israel and the Slovak Republic also offer some nice alternatives.
This third annual ranking of the Adventure Travel Development Index (ADTI) was considered 195 countries, giving each a score according to its potential for adventure tourism from ten factors such as infrastructure, security, actions relating to sustainable development, natural resources and the resources of adventure activities.
Among the so-called "developed", Switzerland, acclaimed region for winter sports for decades, has dethroned Iceland, which drops to second place.
The top ten destinations have changed from one year to another, New Zealand ranks third, Canada and Germany fourth fifth, while the United Kingdom, Australia, Luxembourg, Denmark and Spain out of the top ranking.
Among developing countries, Israel has taken the place of the winner of last year, the Slovak Republic. The Adventure Travel Trade Association notes that Israel is attracting more and more, the number of tourists "religious" decreases the benefit of tourism more generally.
In the second place, the Slovak Republic has been hailed for its interest in adventure tourism, the ADTI is mainly centered around the holidays in the mountains and winter sports.
But the rankings also has its share of surprises, with for example the low ranking of the United States at the 21st place, given low scores in health and philanthropy, while Cape Verde has moved from 122nd place in 2009 the 44th this year.
The study was conducted by the Adventure Travel Trade Association, George Washington University and Vital Wave Consulting.