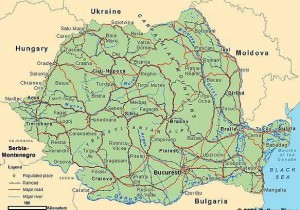 Romania is connected by air to many European capitals.
No visa is required for EU nationals for stays of less than three months.
The motto of course is the new Romanian leu.
The expected budget is quite low, because Romania is still a cheap country. Accommodation will cost way less than 50 €, and a very decent meal under 15 €.
There are no serious health problem in Romania, but the traditional vaccinations are recommended, as well as against hepatitis A. In the mountains, boil water or purify it before drinking. Take a few precautions against stray dogs (even in bright Bucharest!), Ticks in the countryside, and mosquitoes.
Regarding your travel within the country, the aircraft can be an affordable solution to move the capital to major cities. Buses are also very inexpensive, but lack of efficiency. The train is probably the means of transport which has the best quality / price ratio in Romania.
Items to report: tablecloths, woolen blankets, carved wooden spoons, painted eggs from Bucovina, icons on glass.
The climate in Romania
The Romanian climate is distinctly continental, with hot summers (temperatures reaching over 30 ° C) and winters are harsh (almost -10 ° C in Bucharest). This is most evident in mountainous areas on the coast, where temperatures are more mild.
Between seasons are short but very enjoyable. To visit the country, prefer May and June, or September, unless you choose to explore the snowy landscape at Christmas time in Moldova. If you want to enjoy the beaches of the Black Sea in July and August months are obviously the most suitable.
What to see and do in Romania
Beautiful country where the senses are kings, Romania adds to the charm of its landscapes the friendliness of its people.
Bucharest, the capital, has suffered from the reign of Ceausescu: it remains to see some monuments like the Old Court Church, the George Enescu Museum, the Orthodox Church of the Strada Stavropoleos, Cotroceni Palace. For its gigantic, do not miss the Palace of Parliament and three thousand rooms.
In Transylvania, visit the city of Brasov: beautiful medieval town, it has a beautiful Gothic church. From here you can discover the famous "Dracula's Castle" (Bran Castle) defended by the spectacular fortress of Rasnov and more peaceful city of Sighisoara, with its many buildings full of history: the Clock Tower, the church of the Dominican monastery and church of the Hill are good examples.
The fans are sure to relax the coast of the Black Sea, stopping in Constanta, Romania's main port, before going in Mamaia, a beautiful golden beach.
To admire the birds, if you are passionate about nature, the Danube Delta offers lakes,