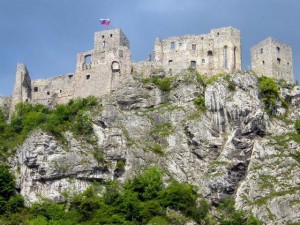 Country borders still new and little known, Slovakia is no shortage of attractions, both cultural and natural. Bratislava, the capital, worth a detour: the monuments of the old town, museums, the National Theatre, whose fame extends beyond the borders, the castle overlooking the Danube, are interesting steps.
The contrast is striking if you continue your visit by the High Tatras (Vysoke Tatry), mountain ranges, but small areas with 600 km of hiking trails, many peaks and dozens of glacial lakes.
Other natural curiosity, the gorge of the Dunajec: 500 meters of cliffs dominate the landscape and lead to a monastery dating from the fourteenth century.
Do not miss the cave Domica, immense, huge and decorated with stalactites, you visit popular on the underground river.
You will not remain insensitive to the charm of the many wooden churches that dot in particular the Northeast of the country and is one of the treasures of the country.

National Park Slovak Paradise, south-east, is the opportunity to discover many picturesque villages, but also landscapes full of waterfalls and canyons, and a wildlife protected by thick forests.
Throughout this journey, you will be struck no doubt by the sense of hospitality of the people, which is not the least attraction of the country.
The continental climate results in very marked variations in temperature, and winters are harsh and rather long, especially a very cold January, and a hot summer.
Sunshine is to visit between May and September, despite heavy rainfall. The ideal to visit Slovakia is therefore at this time, knowing that in July and August the peak is much greater.
If you want more peace and if you do not mind cooler temperatures, prefer in April and October. For ski enthusiasts, the stations are often open in November, the snow could start falling early and up to one hundred days a year.
You can find Paris flights Bratislava without any problems but the train is an option to remember because of the reduced distance.
If you are a citizen of the European Union and your stay does not exceed 90 days, you do not need a visa.
The currency is the Slovak koruna. 100 SKK = € 3.31
Expect around 10 € for a meal means you will take in the many small restaurants that serve local specialties, and between 20 and 30 € for a decent accommodation in hotels through luxury, fairly common. You can also opt for the solution "campsites," which are very numerous in the mountains.
To move inside the country, trains serve the major cities, but you'll want to prefer the bus, though more expensive to go to smaller towns and villages.
As for precautions, as in all of Central Europe, beware of ticks: If you have to stay in rural areas, it is advisable to get vaccinated one month before departure against "encephalitis ticks. "Attention also to mosquitoes that are the cause of disease severe enough.