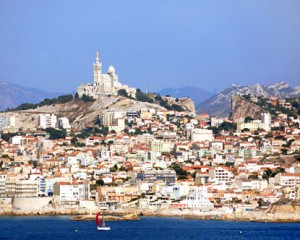 Marseille is France's second city and economic center of the Provence-Alpes-Cote d'Azur.
Marseille is the oldest city in France, founded about 2600 years ago by Greeks from Phocaea (Asia Minor). Major port and crossroads of the Mediterranean since that time, the city is cosmopolitan and moving.
The Marseille-Provence airport is located about thirty kilometers from Marseilles. Buses and taxis connect in less than 30 minutes, the airport from the city center (shuttle every 20 minutes). The official website of the airport you can learn more about schedules, fares, etc. …
Since the beginning of the year, a stop station was set up (Vitrolles Station-Airport), a shuttle will take passengers from the terminals. This train line serves Marseille and Miramas in one direction, and Arles, Tarascon, Nimes and Montpellier in the other. At peak times may be of interest to avoid traffic jams for Marseille (around 18h).
There are many domestic flights to Marseilles from several French regions, including Corsica. International flights are concentrated on Europe and the Mediterranean, but the arrival of low-cost airlines at Terminal MP2 connect several new European cities in Marseilles (Helsinki, Moscow, Copenhagen, Athens ….) Finally, note the flight of North America (Montéral, Quebec, Punta Cana), Africa (Dakar, Abidjan ..) and the Middle East (Tel Aviv, Damascus, Beirut)
What to visit in Marseille ?
Notre Dame de la Garde. Call "Bonne Mère" ( Good Mother ) affectionately by the people of Marseilles, is the emblem of the cited Marseille, which sits proudly atop the hill of the Guard. Access by bus 60-Vieux Port-N-Dde-Guard. By car, it is possible to park (fee):
Parking of Rope (435 m). 35, Boulevard de la Corderie 13007 Marseille.
Parking Monthyon (604 m). Rue Breteuil 13006 Marseille.
If you want to finish off if there are parking (free) at the foot of the basilica.
Vieux Port ( Old Port ): this is the heart of Marseille and Marseille. The port is a huge natural harbor where the Greeks came the founding of the city, 2600 years ago, note the plate in the ground: Brotherhood of the dock.
Until the early 20th century, trade was in the old harbor, along the south shore Quai de Rive Neuve remaining older docks built on the site of the royal galleys, now filled with chic restaurants instead. Do not miss the Cours Estienne d'Orves The Arcenaulx at number 25 which will tell you the history of the neighborhood. Places to oils, take the ferry boat (pronounced bohate) for the City Hall.
On the north shore, Quai du Port, the old town was beginning about the location of the Greek city (see Le Panier) but the southern part of this district was destroyed during World War II (see story below below).