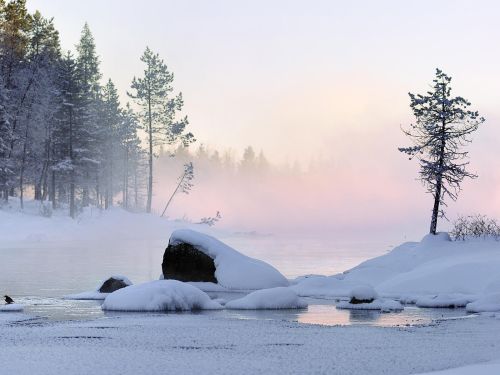 Finland is a country in Northern Europe. It shares borders with Norway, Sweden and Russia.
Finland is a country of thousands of lakes (most of which communicate with each other) and islands (187,888 lakes and 179,584 islands). One of these lakes, Saimaa, is the fifth largest in Europe. Beside the many lakes, the landscape is dominated by boreal forests (about 68% of the country) and little arable land. Most of the islands are in the south-west, in the Åland Islands, and along the southern coast of the Gulf of Finland.
Climate In Finland : The climate in Southern Finland is Nordic. In northern Finland, particularly in Lapland, subarctic climate dominates, characterized by very cold winters sometimes (possibly down to -40 ° C). In the south and southwest, the winters can be harsh, depending on the year. The snow, in any case, is more irregular than in northern Finland. The summer sees the thermometer up to 29 ° C.

Finland is, in any case, a country of poor rainfall: 400 mm of rain in Lapland and eastern Karelian, 550 to 700 mm in the southwest.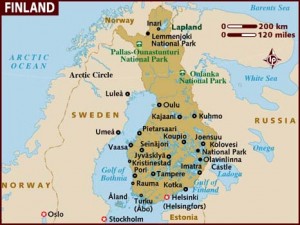 Cities of Finland are Helsinki, the capital
Turku, major port, the second largest city of the country, Swedish-speaking tradition.
Tampere
Oulu
Kuopio, in eastern countries, large tourist town on Lake Kallavesi.
Lahti, a city near Helsinki, surrounded by the lake Vesijävi. Lahti is a large sports center.
Rovaniemi, capital of Lapland, a town near the Arctic Circle. It is also the town of Santa Claus.
Rauma, whose heart is one of the most magnificent examples of wooden architecture of the Nordic countries. It has also been recorded in 1991, on the World Heritage List of UNESCO.
How to Go in Finland ?
Go to Finland by plane , The main airport is Helsinki. It is served by most carriers. Shuttle bus can reach Helsinki in 20 minutes.
Tampere Airport is served by the airport Liverpool, London (Stansted), Frankfurt (Hakn) and Riga.
Go to Finland By boat, Regular routes connect Finland with its neighbors:
From Estonia, Short ride a road structure is even project! –
From Sweden, Count overnight. Some boats make a stop at Åland, Swedish-associated state near the Swedish coast.
Go to Finland By train, In the northern Gulf of Bothnia . The train line is not continuous between Kemi and Sweden, take buses (provided synchronization and correspondence included in the price): hot offers from Boden (Sweden, station) or Luleå (Sweden, train)Haparanda (Sweden border)Kemi (Finland) via Tornio.
Come down to the train station (last stop) and non-road (off unsystematic).
In the South, to Russia. It is possible to reach St. Petersburg (Russia) from Helsinki, with visa in about 6 hours (7 counting the time difference between the two cities).